Editor's note: This post was originally published on 12/13/16 and has been updated for accuracy and comprehension.
Tired of rolling over and playing dead to the life insurance Goliaths like P&C?
We've got some life insurance sales tips to help you combat the big guys and ensure that your business weathers the changes in consumer buying behavior.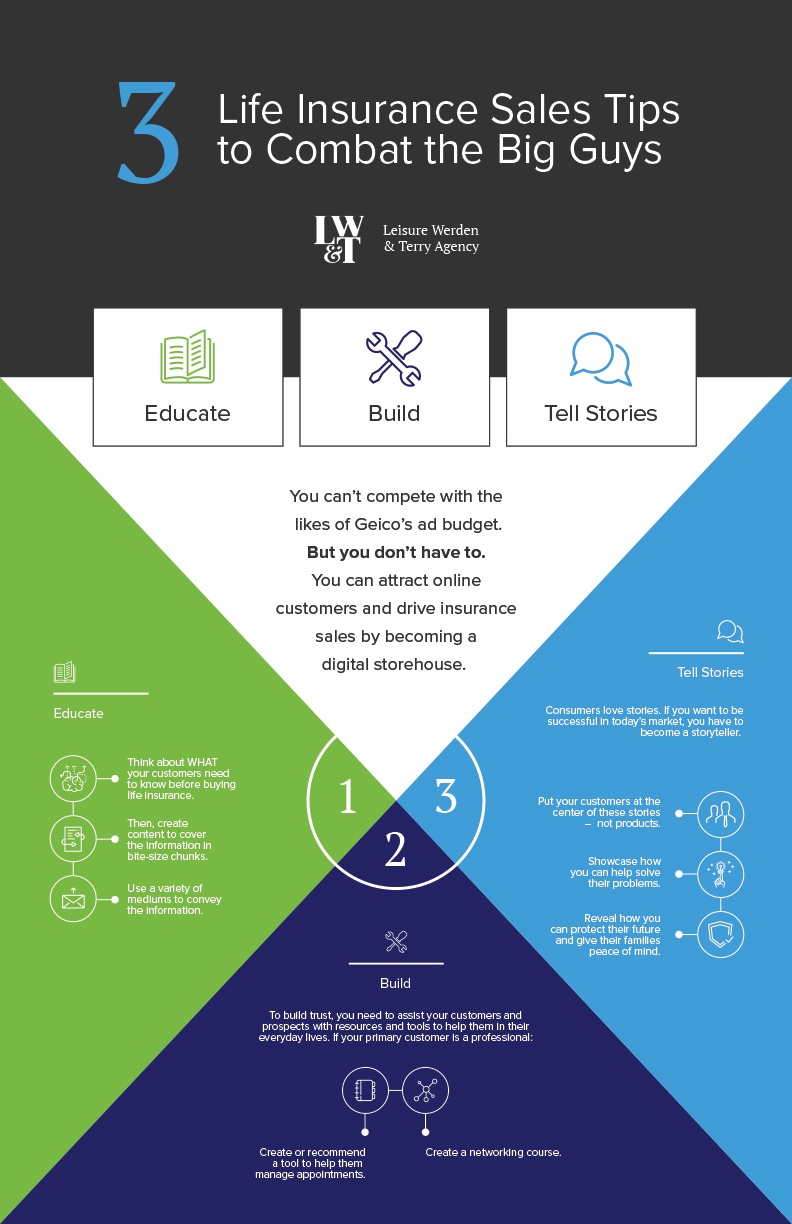 Share this Image On Your Site
But these aren't the only ways to go up against a big company and come out on top.
Here are some additional life insurance sales tips to keep in mind.
Customer service counts
It may seem obvious, but sometimes a reminder is necessary.
You have the opportunity to forge a closer, stronger relationship with your life insurance clients.
People place almost as much value on customer service as they do the product you're offering them.
When your prospects understand they'll get a much more personal experience with you, they won't have any trouble choosing you as their life insurance provider.
Greater innovation
It may seem like the opposite would be true, but larger life insurance companies often have a lot of red tape that prevents them from moving quickly on ideas.
In a smaller setting, the time from brainstorming to implementation is much quicker. So don't be afraid to do things differently. Let your creativity come forth.
That translates to a greater level of satisfaction for your clients and a boost in your revenue.
Cement your reputation
Size doesn't matter when it comes to reputations.
Larger companies often have mediocre reviews across the board.
Building a stellar reputation in your own community and those surrounding you is far more valuable than a company with a far reach and a name that's synonymous with so-so.
Nailing down a niche
The large companies who offer life insurance generally try to appeal to a broad audience.
As an independent insurance producer, you have the ability to establish a niche and grow your base of leads and prospects from there.
It's always a benefit when you become the go-to for a certain product or service.
Turn life insurance sales tips into revenue
There are a lot of advantages to being an independent business owner/life insurance producer.
You're able to be more client-centric, putting them at the center of the story instead of a product.
The freedom that comes from running a smaller operation means its easier to educate and build trust with your clients and prospects – and that equals more income for you.
In what ways have you struggled with going up against the "big guys?"